Dosing Live Sessions
都内各所の面白スポットにてアーティストのライブ、DJをストリーミング生配信でショーケースします。
8/6(日)は下北沢5F ROOFTOPにて開催!

Introducing our brand new event series, "Dosing Live Sessions".

Here we find the dopest spots around Tokyo, throw a party with the sickest artists in town and stream it live for the world to see!

For our first edition we'll be partying on Sunday August 6th under the clouds on the rooftop of Rainbow Soko 3 Shimokitazawa! There'll be two rooms with live music / DJs / visuals / good vibes and cheap drinks to keep you refreshened.

Come through or tune in live between 3PM and 8PM (Japanese Standard Time) via our facebook page or visit dosing.jp

It's gonna be lit!

---
DOSING LIVE SESSIONS: ROOFTOP EDITION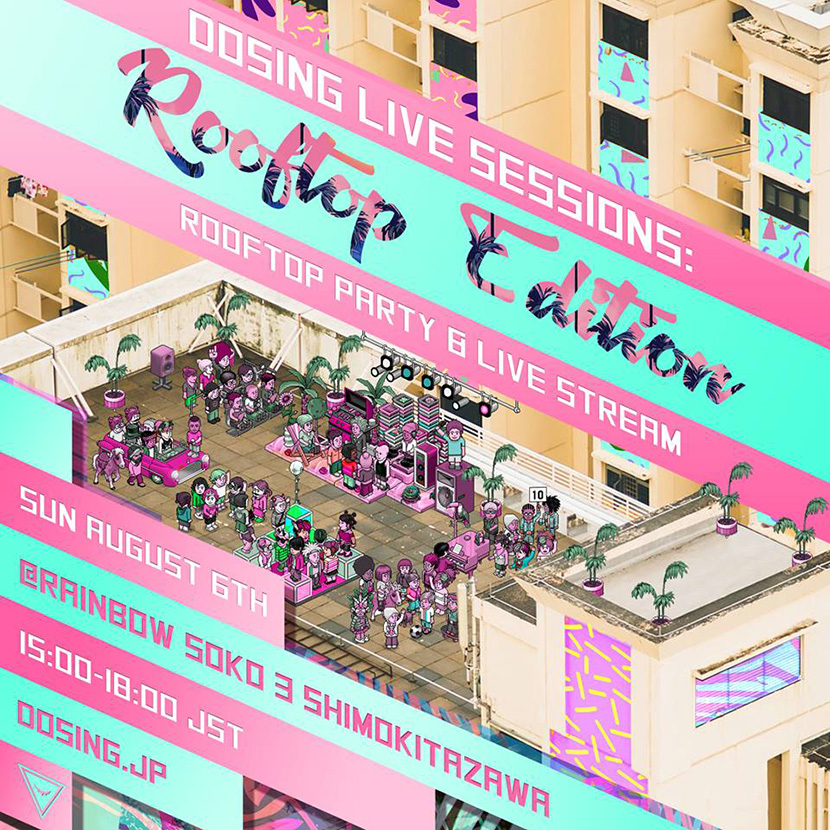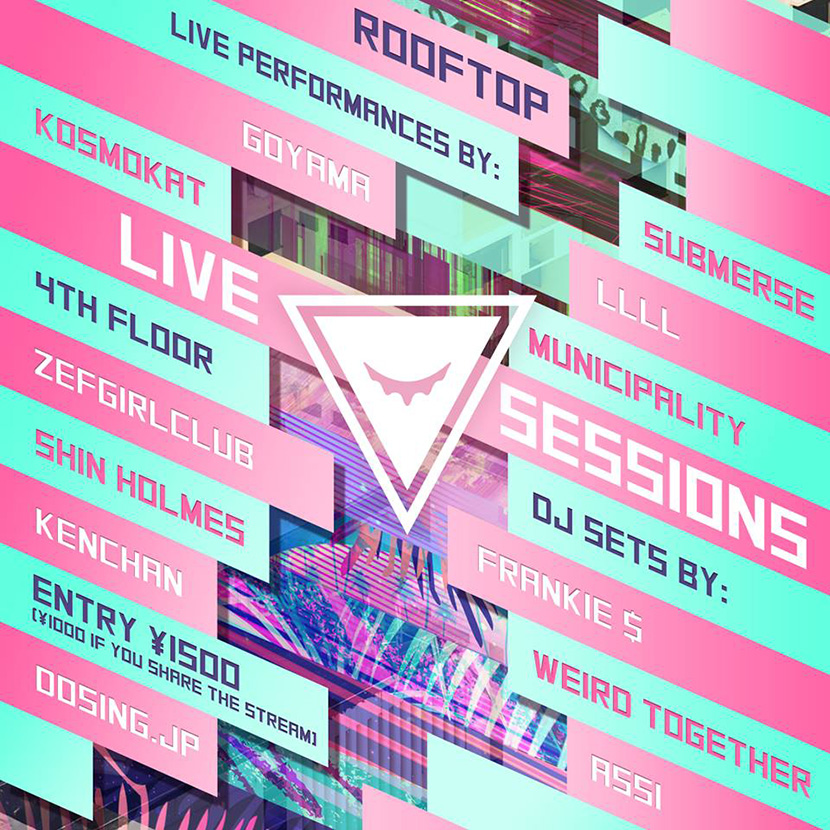 #dosinglive #wearedosing
▶︎DAY: 2017.08.06 (日)
▶︎DOOR: ¥1.500
▶︎DISCOUNT: ¥1.000 (If you share the live stream url at the door :>)
▶︎TIME: 15:00 – 20:00 (JST)
▶︎PLACE: RAINBOW SOKO 3 SHIMOKITAZWAWA [setagaya-ku,kitazawa2-19-5]
▶︎LIVE STREAM via dos・ing.
☁ ROOFTOP LIVE SETS ☁
SUBMERSE [https://soundcloud.com/submerse]
GOYAMA [https://soundcloud.com/goyamamusic]
LLLL [https://soundcloud.com/lllltokyo]
KOSMOKAT [https://soundcloud.com/kosmo-kat]
MUNICIPALITY [https://soundcloud.com/municipality_tokyo]
* Rooftop performers will be fllmed and broadcast live.
✿ 4F DJ ✿
ZEFGIRLCLUB (AUS) [https://soundcloud.com/zefgirlclub]
WEIRD TOGETHER (NZ) [https://soundcloud.com/weird-together]
FRANKIE $ [https://soundcloud.com/frankly-sick]
SHIN HOLMES [https://soundcloud.com/shin-holmes]
KENCHAN [https://soundcloud.com/kenchantokyo]
ASSI (ELENA) [https://www.instagram.com/midoriassi/]

▼イベントページ(イベント詳細はこちらからご確認下さい)
https://www.facebook.com/events/253960928455236/